Gold Prices Cool Off 
NEW YORK (TheStreet ) -- Gold and silver prices were jumpy Friday as the metals' week-long rally was stymied by profit-taking and a rise in equities.  
Gold for April delivery settled off session lows but was still down $6.50 to $1,409.30 an ounce at the Comex division of the New York Mercantile Exchange. The gold price started to slide Thursday after the market closed as oil fell under $98 a barrel and was continuing its downward spiral Friday. The gold price has traded as high as $1,412.40 and as low as $1,400.10. 
The spot gold price was up just over $7, according to Kitco's gold index. The divergence between spot gold and the futures market indicates that physical buying is strong while technical buying isn't. Heading into the weekend, with uncertainty in Libya over the fate of leader Moammar Gadhafi, traders might be reluctant to put new money to work and might be more apt to book profits to cover potential losses in other areas.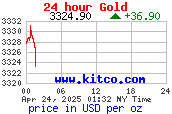 The Dow Jones Industrial Average, on the flip side, seems to have stemmed its painful week as oil prices have retreated under $100 a barrel. Reports that Saudi Arabia would be ready to release more oil if there was a substantial loss of exports from Libya, calmed investors and eliminated the frantic need for safe-haven assets.  
Silver prices were following gold Friday, settling down 25 cents to $32.92 an ounce. Silver has seen a 1.8% correction since Thursday morning. Some analysts had predicted a steeper 10% correction.
Vote: How high will silver prices go in 2011?
The U.S. dollar index was adding 0.26% to $77.26, which could also provide a short-term headwind for silver and gold.
Scott Redler, chief strategic officer for T3Live.com, says that gold prices could move higher but that the metal ran so far so fast that it might need a breather. Gold rallied 2% in the past week factoring in a 2011 high of $1,418 an ounce. The rally has pretty much been a straight arrow up.
Vote: Where will gold prices finish in 2011?
"If we could stay here and [gold] stays above $1,400 [or $1,390] ... and [gold] proves that demand is strong, we're going to get that breakout trade," says Redler.