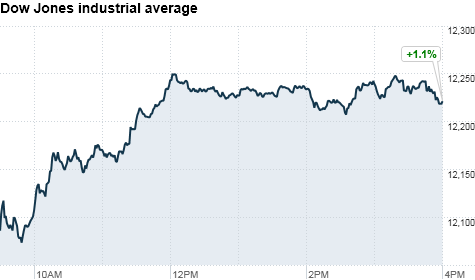 Stocks surge as banks lead gains, oil drops 
NEW YORK (CNNMoney) -- U.S. stocks closed broadly higher Tuesday, led by a strong performance in the financial sector.
Easing oil prices lent further support. Crude prices retreated following reports that Libyan leader Moammar Gadhafi is working to step down and exit the country safely.
    * 20
    *
    *
    * Email
    * Print
The Dow Jones industrial average (INDU) advanced 124 points, or 1%, to close at 12,214; the S&P 500 (SPX) added 11.7 points, or 0.9%, to 1,321.80; and the Nasdaq Composite (COMP) gained 20 points, or 0.7%, to 2,766.
Bank of America (BAC, Fortune 500) sparked a rally in financial shares after CEO Brian Moynihan issued a rosy multi-year outlook at the bank's first shareholder meeting in four years. Moynihan also said the banking giant plans to increase its buyback program and may raise its dividend.
Shares of Bank of America jumped 5%; American Express (AXP, Fortune 500) rose 3.5%; and JPMorgan Chase & Co. (JPM, Fortune 500) rose 2.7%. The jump in BofA shares is a change of pace for the Charlotte N.C.-based bank, which has seen its stock price fall 12% from a year ago despite the S&P 500 being up 16%.
Shares of other retail banks were also higher, with SunTrust (STI, Fortune 500), USBancorp (USB, Fortune 500) and Hutchington Bancshares (HBAN) each rising 3% or more.
"The whole financial sector was way oversold, so this move could be just a technical bounce," said David Rovelli, managing director of U.S. equity trading at Canaccord Adams. "There's still a ton of risk in the financials and BofA still has the mortgage processing problems."
0:00 /03:22Invest in toothpaste and toilet paper
Oil prices: Investors continue to monitor developments in Libya and the civil war's effect on energy prices. Oil futures lost 53 cents or 0.5%, to $104.91 a barrel Tuesday. The retreat came a day after prices spiked to almost $107.
Shares of major oil drilling and refining names also fell with Chesapeake Energy (CHK, Fortune 500) falling 2%, ConocoPhilips (COP, Fortune 500) dropping 1% andTesoro (TSO, Fortune 500) shares falling 4%.
Gold also eased from the prior session's highs, with prices closing down $7.30 to $1,427.20 an ounce. Gold settled at a record high of $1,434.50 an ounce Monday, as investors sought perceived safety in the precious metal.
Investors have been focusing on geopolitical developments and oil prices across North Africa and the Middle East. Traders are worried that spreading unrest will keep commodities at these elevated levels and will undermine the economic recovery.
"When you throw together high oil with increases in cotton, soy and food, you have a nasty combination that will impact earnings," Rovelli said. "The whole key is how long commodities stay up there. If they don't start to decline, it's going to be a burden on stocks."
Oil and gold: Rally won't last
Over the long term, however, analysts surveyed by CNNMoney agree that the oil and gold volatility will fade as the crisis in Libya abates.
In the meantime, Jim McDonald, chief investment strategist with Northern Trust, said investors should remain overweight the materials and energy sectors.
"The situation in North Africa and the Mid East is a wild card but it remains a situation that you don't want to disrupt your portfolio for," McDonald said. "Stick with companies with solid balance sheets who are positioned for strong economic growth."
Companies: Urban Outfitters (URBN) shares plunged 17% after the retailer reported a profit late Monday that widely missed forecasts, saying its margins were hit by increased markdowns.
0:00 /01:05Urban Outfitters falls out of fashion
Shares of Sprint Nextel (S, Fortune 500) jumped 5%, on reports that the company was in early negotiations with Germany's Deutsche Telekom to sell Deutsche's T-Mobile business to Sprint.
Starbucks (SBUX, Fortune 500) began rolling out its new logo Tuesday, as the coffee company celebrates its 40th anniversary this week. Shares rose 1.2%.
Morgan Stanley (MS, Fortune 500) is considering dropping the Smith Barney name from its brokerage business, according to sources cited in the Wall Street Journal. Shares gained 1.7%.
Economy: There were no major reports on Tuesday's calendar.
World markets: European stocks closed mostly flat. Britain's FTSE 100 rose less than 0.1%, and the DAX in Germany ticked up 0.1%, while France's CAC 40 added 0.6%.
Asian markets ended higher. The Shanghai Composite ticked up 0.1%, the Hang Seng in Hong Kong jumped 1.7%, and Japan's Nikkei advanced 0.2%.
Currencies: The dollar gained against the euro, the Japanese yen and the British pound.
Bonds: The price on the benchmark 10-year U.S. Treasury fell, with the yield rising to 3.55%. To top of page