Gold, Silver Prices Take a Breather
NEW YORK (TheStreet ) -- Gold and silver prices were losing steam Tuesday as investors opted for stocks.
Gold for April delivery was shedding $9.10 to $1,425.40 an ounce at the Comex division of the New York Mercantile Exchange. The gold price has traded as high as $1,437.20 and as low as $1,423.60. The spot gold price was down $4.40, according to Kitco's gold index.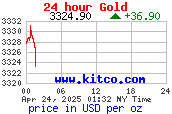 "I think the new band of trading is going to be between $1,400 and $1,500," says Mihir Dange of Arbitrage, "and if it gets above $1,450 then it should stabilize between $1,450 and $1,500."
Despite potential profit taking or rotation into other assets like gold is seeing Tuesday, Dange is undeterred saying that gold has seen a systematic rally as investors are "spreading gold against every other commodity," using gold as a hedging tool. The SPDR Gold Shares(GLD_) added almost 7 tons on Monday as investors and traders used the gold ETF.
Vote: Where will gold prices finish in 2011?

Silver prices has been rallying earlier in traded but then succumbed to profit taking like gold. Silver prices have rallied 16.9% for the year, leaving many analysts to wonder if the metal has run too far too fast. Phil Streible, senior market strategist at Lind-Waldock, says if he didn't have a $42 price target he would think so.
"In the short run, I think we are going to see $37." Although Streible isn't ruling out a pullback, he sees $34 as a key level of support.
Vote: How high will silver prices go in 2011?

U.S. short positions for silver contracts on the Comex were up to 25,586 in Mach from 19,706 in February. Anthony Neglia of Tower Trading says eventually short positions are going to have to be bought back "which renews my faith in the fact that this is going to be a continued rally ... [I would like to find] areas where I would rather buy than areas where I would rather sell ... that area for me is the $35 area."
One potential pitfall for precious metals could come it the situation in Libya changes and leader Gadhafi resigns, a rumor which has been gaining traction. Rebel forces refused to meet with Gadhafi to negotiate and the fighting, for now, is continuing. 
If [the regime] falls within the next few days," warns Streible, "there may be a significant pullback in the gold and silver market right out of the gate but I still don't think it stops the underlying fundamentals," such as QE2 and high debt loads. "I don't think gold breaks $1,392" 
The U.S. dollar index was also curbing precious metal gains adding 0.51% to $76.92. 
Gold mining stocks, a risky but profitable way to buy gold, closed mixed Monday. Barrick Gold(ABX) added 0.3% at $52.99 while Newmont Mining(NEM) was down 1.1% to $53.68.
Other gold stocks, Randgold Resources(GOLD) and AngloGold Ashanti closed lower at $77.01 and $47.62, respectively.
Shares of Randgold will be one to watch Tuesday as worries spread that political instability in the Ivory Coast will disrupt production at its Tongon mine. Reportedly Cluff Gold halted its operations in the region Monday.
http://www.thestreet.com/story/11035252/2/gold-prices-pause-as-silver-keeps-rising.html