Gold for February delivery added $8.20 to $1,379.20 an ounce at the Comex division of the New York Mercantile Exchange. The gold price traded as high as $1,378.50 and as low as $1,365.40 during Friday's session. 
The U.S. dollar index was adding 0.46% to $80.40 while the euro was down 0.45% to $1.31 vs. the dollar. The spot gold price Friday was up $7.60, according to Kitco's gold index.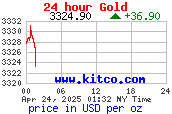 Gold has had a difficult and volatile week. The metal started off on a positive note, breaking $1,400 and adding almost $20 in two days. But the rally couldn't hold and the metal has sunk $33 since Wednesday. Among fundamental issues, gold has been fighting with technical trading.
Traders have been selling the metal to book profits headed into the end of the year but any substantial dip has been met with buying as traders buy gold to show they own it. This "bargain" hunting supported prices in late-day action on Friday. 
Another factor in this week's volatility was that Friday is a quadruple witching session, a day when contracts for stock index futures, index options, stock options and single stock futures all expire. 
Gold prices broke a key support level of $1,370 on Thursday but managed to attract some buyers to close at $1,370 an ounce. Jon Nadler, senior analyst at Kitco.com, says this recent rally has been momentum driven and "we could be looking down into the $1,320-$1,350 as a first target." Nadler does not expect bullish sentiment to return "unless gold takes out its previous pinnacle of about $1,430." 
Gold prices were finding some support as a safe-haven asset for investors as Moody's downgraded Ireland's government bonds by five marks and maintained a negative outlook, which means that further downgrades are possible.

At the final European Union summit of the year, leaders agreed to provide a permanent crisis lending facility starting in 2013, after the temporary one expires, but more radical measures to help short-term problems weren't agreed upon. 

Gold markets don't like this kind of uncertainty and there was some found in the U.S. as well. The Commodity Futures Trading Commission agreed to position limits Thursday as part of its job in interpreting the Dodd-Frank financial reform legislation.